One Good Turn Deserves Another
A 32 bar Strathspey for a three couple longwise set

Devised by Eddy West as a result of a challenge from Gillian Taylor. She wanted the sweeping turns of a Tournee without the preceding confusion.


Devised by Eddy West 1999.
| | |
| --- | --- |
| 1-8 | First and second couples Half Tandem Reel and Turn. |
1-4
First lady, followed by second lady dancing in tandem, dances half a tandem reel of three up and down the centre of the dance with first and second men, first lady passes her partner by the right to begin, second lady follows her throughout (See Fig. 1), they finish between the second man and first man facing the men's side, all in a line up and down the middle of the dance. (See Fig. 2)
5-8
First couple with left hand, second couple with right hand turn one and a half times to finish on side lines having changed places. Men and ladies cover in turns.
9-16
First lady with the two's, first man with the threes dance right hands across. Change passing right shoulder to dance left hands across with the other couple. At the end first couple pass left shoulder to face first corners.
17-20
First couple set to corner, partner, corner and at the end dance a petronella turn to own sides, second place.
25-32
First and third couples dance Changeover turns : All dance towards partners, ladies between men (see Fig 3), first couple half turn with right hands and third couples half turn with left hands. The men release partners hands and, first man dancing in front of third man, give other hand to other lady. They then turn the other lady one and a half times. The ladies then change over to rejoin their partner, first lady dancing in front of third lady. First couple with left hand, third couple with right hand turn half round then dance out to finish on own sides in changed places, cover in turns.
Repeat with a new leading couple.
Suggested Recorded Music: "Herself"', Bobby Brown "Grandfather Mountain Gala" "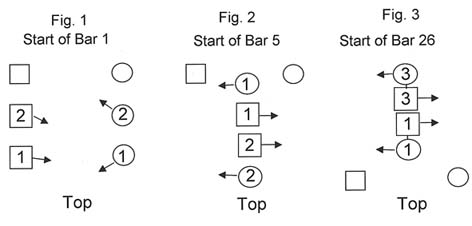 Return to home page